The Container Office has been getting a lot of attention since our move, and with the street frontage at Mildura St, so we thought it was a good opportunity to share how it was made and the finishes that we used.
Originally the Container Office was built because the growing sales team was running out of office space at the Brickworks. With our future at the Brickworks always precarious, Thor Diesendorf and Senior Designer Anna Murray decided to go for a portable design which could be relocated when our chapter at the Brickworks closed, and would showcase the versatility of recycled materials and sustainable design.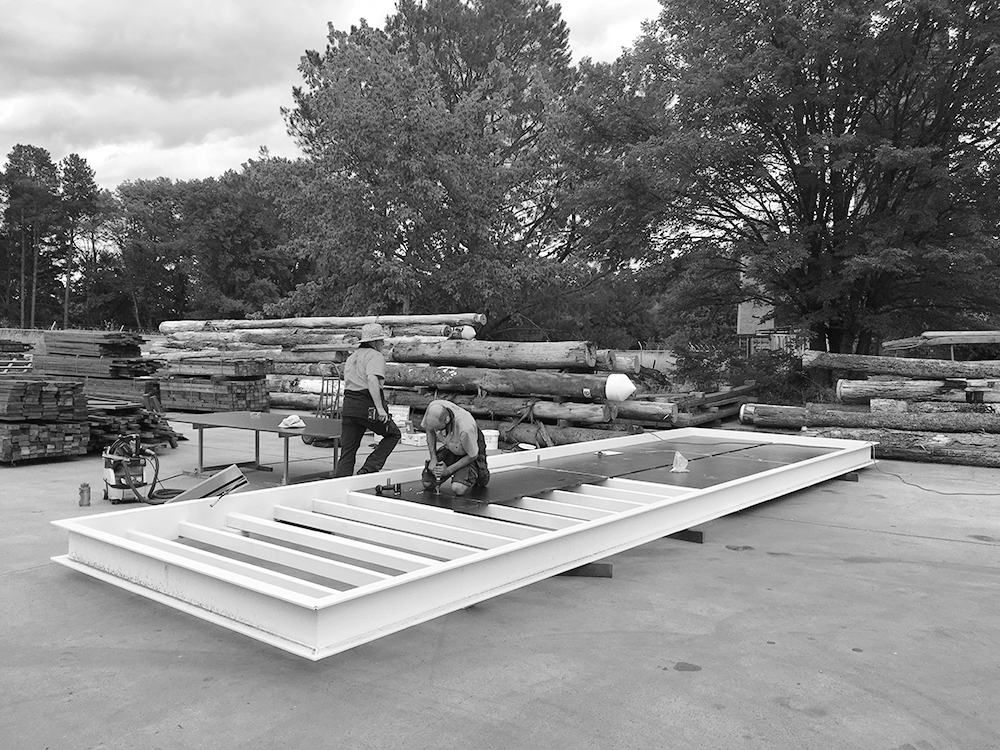 THE STRUCTURE
We started with a high cube shipping container — they are a foot higher than a standard one and it makes a lot of difference to the feel of the space. To add some extra room and light, a portion of the wall was cut out, also creating a recessed nook for desks. The steel was reused and a new frame fabricated to hold a high level window and side windows.
The Container Office is insulated with Kingspan panels set off from the container walls to create a air gap to control condensation, and then lined on the inside with Hoop Pine ply. Thor chose to include a 5mm shadowline between the ply sheets to create a nice detail.
Double glazed louvre winders from Fieger were used for good ventilation and insulation.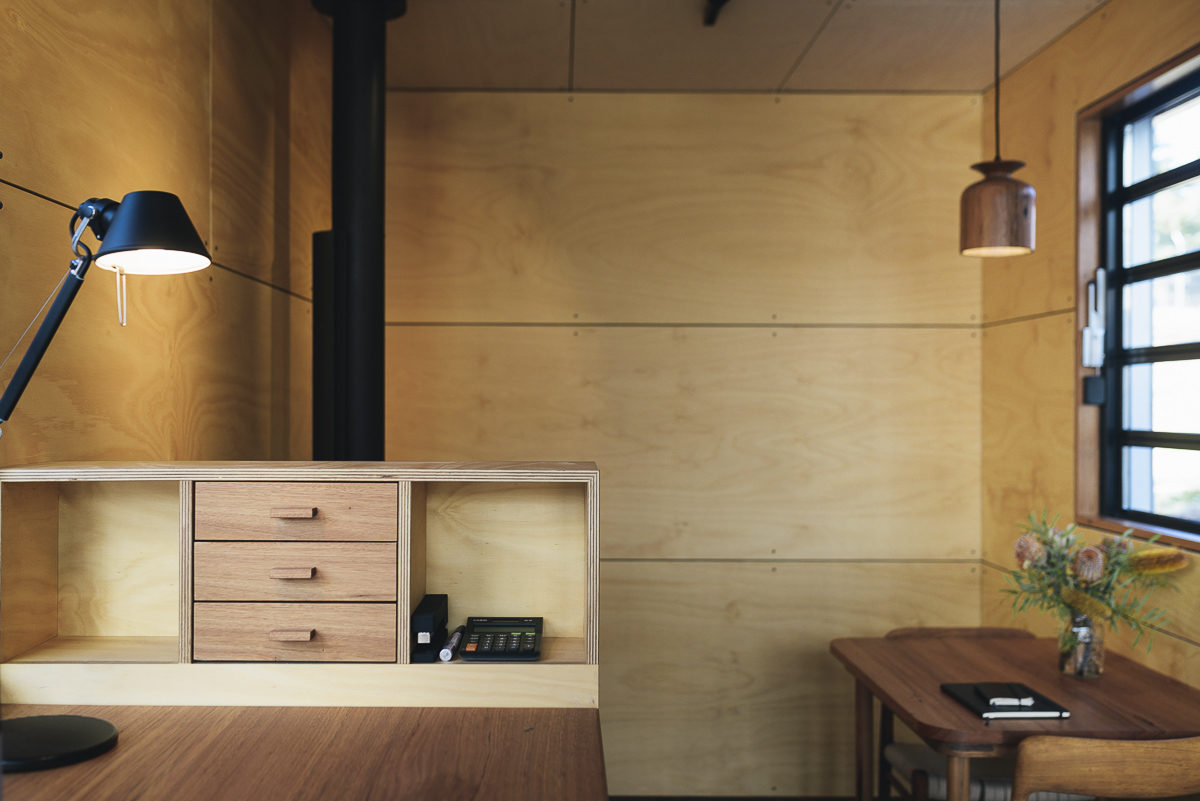 THE FIT OUT
All of the desktops and shelving are made from recycled Blackbutt. As with all of our recycled timber, we dress it back and use a plant based resin to fill any holes before sanding it and applying Osmo Polyx Oil in Matt. The ceiling was lined again in native Australian Hoop Pine ply and stained with Osmo Wood Wax finish 3111 white to keep the room light. For the floor and continue through on the porch ceiling Thor used salvaged Tallowwood from Ryde Technical Collage with a beautiful 50 year old dark patina.
THE GREEN ROOF
To increase the insulation properties of the container and reduce summer heat a green roof was fabricated out of steel and form ply and powder coated white. To create a porch the roof cantilevers over the front door.
Local gardener and landscape designer Lachlan Richardson from Bluebell 2509 chose low growing hardy Australian natives including Myoporum, Hardenburgia, Saltbush & Pigface. Adding to the natives are some Euphorbias, sedums & prostrate rosemary. Myles Chandler kindly also helped with his experience creating a similiar garden on his container bicycle shop Goodspeed in New Acton.
Some Juncus have self sown on the roof too which is exciting to see, as we expected the roof to take on new species of natives (and weeds!) as birds and the wind deposit seeds on the roof. The roof is hooked up to irrigation and watered through the summer.
Converting shipping containers isn't something new, however the outcomes and possibilities are only limited by your imagination. If you want to create a space which is properly insulated and cool in summer and warm in winter we believe they are not the cheap option, but they are definitely worthwhile if you think you will ever want to relocate or sell the converted container.
If you would like to have a look, or are after ideas and inspiration, please feel free to drop past and check out our container office in its new home at 10 Mildura St Griffith.